* NEW * Guitar Gym Weekly Workouts Workshop Series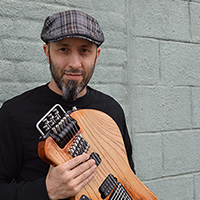 Guitar Gym Weekly Workouts :: Vol. 1 kicks off this ongoing series of Workshops with eight unique challenges covering myriad styles for you to work with. In this first volume you will find Workouts that help develop hybrid picking, pentatonic scale neck vision, bending, octaves, sweep picking, sliding and a 16th note rhythm feel. With this collection of single note and chordal studies that employ basic to advanced techniques you get a wide variety of Skills to hone. This all happens within a no pressure, flex time environment with me right at your side throughout the duration of the Workshop. We're going to have a lot of fun together these next eight weeks.
To get the full gist what's going on here allow me to give you a little background info…
Guitar Gym is my game-changing TrueFire Online Classroom that caters to chops building endeavors across the globe and gave life to the popular Guitar Gym Course Series. The Guitar Gym Classroom has a lot to offer, but at the core is what I call "Workouts." Workouts are specifically designed challenges that help develop your playing so you can become the monster you want to be. There are hundreds of them across five Levels of Skills such as Alternate Picking, Hybrid Picking, Legato, Tapping, Triads and more. The Workshops in this series are made up of a unique type of Workout called "Weekly Workouts" where I design, produce and unleash a spontaneous challenge every week for my 'Gym members. While meant to be mildly difficult they're still playable, concise and fun to work with. This is perfect for my busier members who are on the go a lot and sometimes just want a bite-size morsel to chew on during a hectic week. As for members deep in the shed Weekly Workouts provide them a change of pace and something fresh every week. They range from Skills already built into Guitar Gym to ones I'm developing for the 'Gym to ones I'm working on myself for my own recordings and gigs!
Enter the Guitar Gym Weekly Workout Workshop series!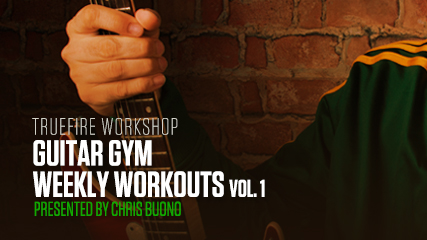 This is the first of an ongoing series of Workshops where I'll be giving you weekly "challenges" to help build your chops from every facet including, but not limited to physical playing ability, focus, stamina and consistency. Most important throughout each eight week cycle I will help you develop and maintain an organized practice schedule that works for you and gets you results.
The setup of each Weekly Workout assignment found in your Lesson Plan is consistent. I'll open the video with a quick summary of what's to come. Then, I'll play the Workout at half speed. This performance will be followed by a detailed break down that leads right into me playing the Workout at the intended tempo I hope to see you work it up to. Guitar Pro files as well as a PDF files come with each Weekly Workout. All you'll need is a metronome, your axe and the desire to get better. You can work at your own pace. If you need help establishing that pace – I got you covered. If you need advice on approaching the Workout – I'm on it. If you complete the Workout and want to expand on it – I'm all over it!
Upon completion of the Workshop you not only receive all the assets, but I will also send you a discount code for the Guitar Gym Online Classroom!
See you in the Workshop(s)!!

So, what are you waiting for?! Jump in! Click here to enroll to start your 8-week guitar calisthenics. To stay on top of when subsequent GGWW columes will go live be sure to join my mailing list, follow me on Twitter and hit that Like button on Facebook.