Modal Mother Lode Series Workshop Series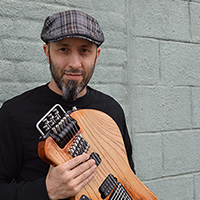 Four years ago TrueFire dropped a game-changer on the guitar world with their Online Classrooms. I was lucky enough to be in on it from the start producing the mighty Guitar Gym – a top ranking Classroom from the get-go with students spanning five continents that continues to reign supreme today. While the Classroom concept has seen incredible results on every level all over the planet, TrueFire saw the need for a hit-it-and-quit-it online learning approach where a player can dive deep into a concept for a set amount of time and then fly the nest upon completion with all the assets. They're called Workshops and my contribution is the Modal Mother Lode Series!
Starting with Modal Mother Lode | Alpha my three  8-week Workshops cover the elusive modes. BUT, not just the Diatonic series and not even the usual addition of the Melodic Minor series. No, no – we're goin' in deep on all 28 scales from the four primary modal systems:
Diatonic
Melodic Minor
Harmonic Minor
Harmonic Major
This time-tested, innovative method is rooted in application and what I call parallel comparison by way of rock, funk and the blues. After thoroughly wrapping your ears – as well as your hands – around the "Ionian template" style-based applications in Week 1 you'll proceed to rock the same ideas in Weeks 2-8. It is there you'll not only compare and fully comprehend the neck vision differences, but most importantly, you'll make the crucial audible comparisons that help bring forth the sound of the mode you're studying. This all happens through a forward-thinking fingering scheme I call one octave cells.
Modal Mother Lode | Alpha is alive and kickin! Dig it…

The MMLA Workshop completely nerds out on Ionian and then continues with major 3rd-based modes. As the weeks go by it goes like this:
Ionian
Mixolydian
Lydian
Lydian Dominant
Lydian Augmented
Ionian #5
Harmonic Major
Phrygian Dominant
As for the Modal Mother Lode | Beta Workshop, that will cover eight minor 3rd-based modes (for the most part) – one per week – while Modal Mother Lode | Gamma will cover the remaining 12 modes doubling up on some weeks. All in all you get the full Monty on these incredibly awesome sounding scales in a way that just makes sense.
To bring this to another level throughout the three Workshops you'll experience more innovation in the form of guitars and devices. In my hands will be a Rick Toone S2 prototype that's plugged into a Fractal Audio Systems Axe-Fx II seen over my right shoulder (look for that infamous green screen!) for maximum vibe not to mention playability & tone.

Check out what some Modal Mother Lode | Alpha students have to say…
"I am so glad that this information is being presented this way by Chris. I love the parallel comparison method he utilizes. The little cells he focuses on evoke the unique personality of the modes and it really helped me grasp the modal concept in a compositional and improvisational way like never before. Thank you Chris! Great work."
-Dweezil Zappa, Zappa Plays Zappa
"I am a long time Guitar Gym member and I can only say this: A very thought through and methodical approach to modes and its immediate musical application. Be warned though: it is a Chris Buono Workshop – intensity written all over the place, but in a very good and entertaining way! This is one of the great places – maybe THE place to go – if you really want to step up your game understanding & applying modal concepts to your soloing. However there is one commitment to make (and I am not talking about the ridiculous low price): You have to put the time in! The benefit is you will improve, but you will become a much better musician in a hurry."
-Hendrik Fischbach, Germany

So, what are you waiting for?! Jump in! Click here to enroll to start your 8-week geek on the first batch of modes. To stay on top of when the Modal Mother Lode | Beta & Gamma Workshops will go live be sure to join my mailing list, follow me on Twitter and hit that Like button on Facebook.