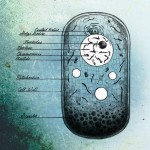 Biological Deadline (2012)
Label: Independent
Artist: Elijah B Torn
Featuring: Elijah B Torn (Bass, Beats, Programming and most everything else), David Torn (Guitar/Harmonium), Chris Buono (Guitar/FX), Dan Venne (Guitar), Jon Francis (Banjo), Greg Heffernan (Cello), Cody Torn (Viola), Scott Hampton (Trumpet), Eric Perlmutter (Drums), Todd Schietroma (Percussion)
For more information: www.elijahbtorn.com

Recording my tracks for EBT's record had some notable first's and last's for me as a sideman appearing on other artist's albums. This was the first time I recorded the tracks on my own in my studio lovingly called The Dust Bowl. I did the session in Ableton Live plugging directly into my MacBook Pro with a PODxt Live. In regards to the latter that was the last time I ever used that piece on a session as I had just recently jumped over to using the Fractal Audio Axe-Fx, but I wasn't ready to whip it out for this jam.

Armed with my old friend – PODxt Live – I worked up a delay setting that gave my infamous "clouds" sound to play in the breakdown sections. Once in the hands of the man EBT sliced and diced what I sent in and plopped me in where he saw fit and it fit it does. Right int he sonic pocket with all the rest of the awesomeness I exist and that's just how I like it.

Again with the PODxt Live I dialed up a preset that weighed heavy on modulated delay settings. With that I laid down various chords via a tapped harmonics technique that seemed to fit the vibe. From there Elijah once more took what I sent in and creatively chopped it all up in small chunks that fit snug into the mix.