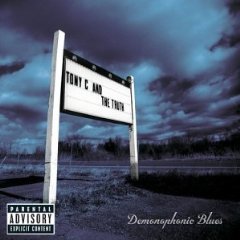 Demonophonic Blues (2004)
Label: Lava/Atlantic
Artist: Tony C. and the Truth
Featuring: Tony Cesternino (Vox/Guitars/Harmonica), Chris Buono (Guitar/Sounds), Kyle Kelso (Guitars/Producer), DJ Prestige (Turntables), John Harvey (Bass), Tobias Ralph (Drums), Sophia Ramos (Backing Vocals)
For more information: www.allmusic.com


Back in 2001 Tobias Ralph recommended me for a gig with a completely unknown artist from upstate NY named Tony Cesternino. He had some buzz and was actively being shopped for a deal. Upon hearing a tape I was sent by his management I knew he was getting a deal, so I jumped on board as a hired gun to help that along. From there I brought in a bass player and DJ, MD'd rehearsals and did gigs around the NY/NJ/Philly while a recording contract was actively sought after. Tony eventually got his deal through Lava, which was a sub of Atlantic Records at the time. He also received a crazy publishing advance and away we went… to Tony's dilapidated shithole in Philmont, NY.
I kid you not when I tell you Tony lived in a structure that at one time housed cows. Apparenetly his grandparents owned and farmed the land at some point. So, here we were trying to make the next rap/rock blockbuster with a mobile Pro Tools rig, Jimmy-rigged electricity and a couple of rented trailer home stocked with B-level porn. You can't make this shit up.
With the guidance of one Kyle Kelso, with whom I loved working with alongside Tobias, John & DJ Prestige, we somehow actually made a record. One that was completed not before I gave Tony and his team the finger and walked. You see, when a self-conscious, unproven personal manger is boning the medicated talent shit is bound to hit the fan. I beat feet before too much hit at my expense. To that end, Tony credited me on the record as "Additional Solos". Contrary to the name of his band, that was not the truth. Below are tunes I played on along with, well, the real truth and nothing but.

Who I Are

Audio clip: Adobe Flash Player (version 9 or above) is required to play this audio clip. Download the latest version here. You also need to have JavaScript enabled in your browser.
For this track I strapped on Tony's newly acquired original Airline semi-hollow for all the lo-fi cheap-o licks throughout. I ended up wielding Kyle's kick-ass Les Paul through a fire-breathing Marshall half stack for some guttural riffing as well as the outro solo starting at 3:18. It was loud. Fun fact: For those of you paying attention to my shit, if you noticed what seemed like broken English on my Facebook Musician page bio headline, well, this is where it came from.

Good Lookin' Out
Good Lookin' Out
At the onset of this track is a baby boy laughing. That baby who is now a young man is my son John. During the making of this record my son was about four months old. My wife and I lived with John in a trailer on the "grounds" of Tony's estate. It was here my baby boy learned to drink from a cup. So there's that. My wife lasted about two weeks before she threw up the white flag. I think the straw that broke the proverbial camel's back was opening a cabinet looking for his formula and finding a dead animal covered in feces.
As for the tune itself, I'm not sure if I played on it. Any slide work was Tony or Kyle as they both had that technique down. I may have played some licks in-between the vocals? Meh.

Weight of the World

Audio clip: Adobe Flash Player (version 9 or above) is required to play this audio clip. Download the latest version here. You also need to have JavaScript enabled in your browser.
After the mindless banter at the opening my delay pad signature enters in with a vintage Mu-Tron Bi-Phase properly coloring it. At 2:09 I drop a double tracked solo played on someone's sweet Gibson SG. I was going for a Randy Rhoads thing sans cheesy MXR effects. The outro has some sonic trickery over the pads courtesy of Boss delays and my vintage Electro-Harmonix 16 Second Delay.

Gravity

Audio clip: Adobe Flash Player (version 9 or above) is required to play this audio clip. Download the latest version here. You also need to have JavaScript enabled in your browser.
With a slide, my 16 Second Delay, and a host of other goodies I colored this track with the vibe it demanded. Tony's soulful acoustic slide work was outstanding, especially for the eery pitch heard sparingly throughout. Check out Tobias' pocket, too–DAMN.

Fight For Your Right (To Party)

Audio clip: Adobe Flash Player (version 9 or above) is required to play this audio clip. Download the latest version here. You also need to have JavaScript enabled in your browser.
This was the lone one take of the entire project so whatever happened is what it is. It rocked though and it was a freakin' fun. This is my one and only appearance on a CD where I play the token rock guitar solo with a wah pedal. Lord, help me.