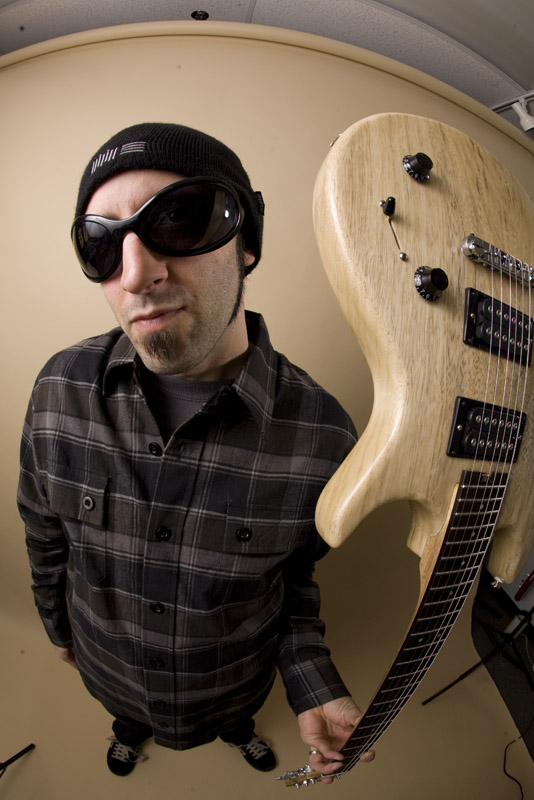 Chris Buono – Multimedia Guitar Madman
Chris Buono has been called many things: arcane improviser, sound diabolist, fearless composer, content junkie, video stunt guitarist, crazed educator—the list goes on. If you're looking for simpler terms you can go with recording artist (Lava/Atlantic, Lion Music, RKM/Kindred and more), sideman (Karsh Kale, Bumblefoot, Graham Haynes and many more), educator (TrueFire, Berklee College of Music), music journalist/columnist (Guitar Player, Guitar One, Just Jazz Guitar to name a few), and author (Hal Leonard, Alfred, Cengage Learning). Call him what you want, one thing is certain—this cat is bad-ass and busy. Not to be tied down to any one identity for too long, Chris Buono is perpetually morphing his chameleon-like media profile making it nearly impossible to pigeon-hole his artistic output into a singular category. With a guitar in hand and a slew of gadgets within arm's reach, Chris Buono infiltrates the modern world of guitar from all directions and shows no signs of slowing down.
What lit the inferno under Buono's arse was spending the better part of the 90's slugging it out in New York's East Village club circuit with outfits like Burgundy, D'Tripp, and (You Were) Spiraling—as well as the infamous "Jersey Shore" scene with Brown—while working to establish a guitar-fueled teaching dynasty. It was in these years Chris would discover and hone his sonic, harmonic, and improvisational skills through collaborations with fellow [then] emerging artists including Claude Coleman (Ween), Sharief, Freedom Bremner (Moby) and Tom Brislin (Yes). These and other musical unions catapulted Buono into a rigorous performing schedule, which served as proving grounds for the relentless pace that lie ahead and enabled Chris to establish the unique voice he possesses as an in-demand sideman and forward-thinking leader.
Today Chris Buono's sideman appearances always put him in the room with a dizzying array of highly regarded musicians from a myriad of styles that allow him to unleash his audio nirvana. On acclaimed Canadian shred guitarist Dave Martone's CD, When the Aliens Come [Lion Music] Chris is featured on the epic track "The Four Horseman" as a guest soloist and audio deviant alongside guitar luminaries Terry Syrek and James Hogan and drummer Daniel Adair (Nickelback). On Lumatic's debut release Chris' stellar guitar work, which ranged from subtle ornamentations all the way to gut wrenching sounds artifacts, comes blaring out of the speakers right next to partners-in-noise Shahzad Ismaily (Marc Ribot) and Ty Citterman (Gutbucket). The release of the highly anticipated shred compilation The Alchemists Vol. 2 on the UK instrumental guitar label Liquid Note Recordings [LNR] hosted a song performed and co-written by Chris and Dave Martone called "Fumble Fingers", which features drummer Gene Hoglan (Deathlok) and a ring-modulated-whammy-pedal-induced solo that left the shred guitar community slack-jawed. Perhaps the most revealing recording to date is the latest Graham Haynes CD, entitled Full Circle [RKM Music/Kindred], where Chris helps redefine the role electric guitar and effects. This debut release on Ravi Coltrane's new label was recorded at Bill Laswell's studio in West Orange, NJ and included modern jazz monsters like Leon Gruenbaum (Vernon Reid), Marcus Gilmore (Nicolas Payton), Adam Klipple, and many others. Chris also appears on the release as a writer with his dreamy contribution, "In the Cage of Grouis Banks".
Chris' unmistakable sonic stamp can also be heard on such diverse releases as jazz/fusion drum legend Rodney Holmes' (Jim Weider) debut solo release, 12 Months of October, from which his guitar work was heard on the track "Sabertooth" that Holmes used as a backing track for the 2005 Modern Drummer Festival DVD; the debut from the blues/rock/rap outfit Tony C. and the Truth, Demonophonic Blues [Lava/Atlantic], and Persian singer/songwriter Haale's award winning EP Se that featured drummer Keith Carlock (Steely Dan/Sting). Along with these high profile releases, Chris has been in incredible live playing situations with these and other artists such as Don Byron, DJ Logic, Bumblefoot (Guns N' Roses), David Fiuczynski and his band Kif, Hasidic New Wave, Granian, Sophia Ramos, Helga Davis, Noir, Grammy-nominated vocalist Carla Cook, and many others. Buono has also worked with producers such as the legendary Neil Dorfsman (Sting/Dire Straits) and Kyle Kelso. The culmination of these efforts has resulted in Chris appearing on national television, even more independent CD releases, and performing in countless clubs and theaters across North America and Europe including the Blue Note and Apollo Theatre in New York and the Bayerischerhof in Munich.
As a result of the amazing journey Buono's sideman work has provided the opportunities as a leader seem limitless. During Chris' quasi-sideman/leader tenure in 2000 with the Diablo Project—a menagerie of freak-out lounge and free-improvisation—Buono was afforded his first real chance to step out as a writer. Though short-lived, the collaboration with Jai Diablo (Dragpipe) garnered a CD on E-magine Records, national press, and two of Chris's tunes used on MTV's Real World, Real World Casting, and VH1's Bands on the Run. Following the success of this formula, Chris quickly assembled the highly volatile Richard Weed Ensemble, which featured the genius work of Jon Francis Lucow; and the ever-quirky BubbleFro. These two free-jazz/electronic based outfits stirred a lot commotion by introducing many listeners to Chris Buono's twisted world of audio nirvana. From there, Buono made a conscientious decision to step even further as a solo artist and bill his performance events under his own name. To date the many incarnations of "Chris Buono" have included some of today's most celebrated purveyors of adventurous music including Tobias Ralph, Steve Jenkins (Screaming Headless Torsos/Vernon Reid), Rodney Holmes (Jim Weider), Keith Carlock (Steely Dan/Sting), Kenwood Dennard (Jaco Pastorious), Steve Lucas (Jim Weider), Jason Rullo (Symphony X) John Davis (Jojo Mayer), Guy Licata (Bill Laswell) and many others.
Chris is currently laying his deft guitar work and sonic deviance on a pair of CD projects that find him once again a leader of champions. Upon going into Peter Karl Studios in Brooklyn with co-conspirator Andy Sanesi, a star-studded cast of New York's finest improvisers were assembled to record a CD of music composed by Chris and jam-band icon Jesse Gibb (Schleigho) dedicated to the imagery of the 1979 cult-movie classic, The Warriors. The two-day session brought together a New York City super-group that included Graham Haynes, Danny Sadownick (Screaming Headless Torsos), John Ellis (Charlie Hunter), Matt Rubano (Talking Back Sunday), and Ben Stivers (Matchbox 20). Also in the works is Chris' trio CD with drummer Tobias Ralph and bassist Steve Jenkins (Screaming Headless Torsos/Vernon Reid) that documents this group's amazing and innovative sound recorded on a grant from the Berklee College of Music and was recorded in Berklee's own Studio A. In the meantime, Chris' critically acclaimed solo CD of freely improvised guitar focused electronic pieces entitled Solitaire keeps listeners at bay.
In the midst of all this creative chaos, Chris is also an industrious contributor to the guitar magazine industry as well as an acclaimed technical reference author. Most notable is his vast contributions to the now-defunct Guitar One magazine, his column, Tools of the Trade, for Just Jazz Guitar magazine, and his writings for Mel Bay's Guitar Sessions on-line magazine. He still maintains his music journalism chops in Guitar Player Magazine and has authored the internationally published jazz instructional book called Jazz Lead Guitar Solos [Alfred]. After being hand picked by the mighty M-Audio to literally "write the book" on recording guitar, Chris embarked on a year long project that came to be the 490-page M-Audio for the Recording Guitarist [Course Technology]. Since the release of this incredible reference guide, Chris recently co-authored and edited House of Worship Sound Reinforcement for Course Technology and is currently writing his third text entitled, Your Ableton Live Studio.
As an educator Chris was a Professor at the famed Berklee College of Music from the fall of 2003 to the spring of 2008 where, among his specialized duties, he assembled and managed the world's most comprehensive guitar effects lab. As a seminar instructor at the National Guitar Workshop Chris helped NGW blast into the future in 2007 by playing an integral part in introducing this 25 year-old institution's first technology courses featuring a 30-hour, week long seminar on Pro Tools M-Powered. In addition to his popular submissions to Guitar One, Chris also played all of the musical examples for the camera on the accompanying CD-ROM (and later for the magazine's website) putting his own headless torso in front of 160,000 viewers a month. In his tenure as Guitar One's "stunt guitarist", Chris Buono appeared nearly on 3.5 million CD-ROMs. Today Chris Buono is still educating the international guitar community behind the lens as a TrueFire artist. This year alone is favoring Buono to release at least four titles with the guitar media giant including Chris' first data-DVD of original content called Funk Fission—a complete look into his perplexing rhythm guitar style. This, plus other titles such as the extensive 40 Day Rhythm Guitar SWAT Camp, Juiced Blues and 50 Rock Guitar Licks You Must Know aptly kick off what's shaping up to be a catalog of copious, yet powerful offerings.