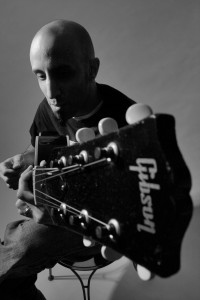 I've been called a "content junkie" seeing that I'm constantly creating media from which you can learn (hence the tongue-in-cheek moniker "Multi-Media Guitar Madman). For starters, I'm an industrious TrueFire artist with 19 interactive guitar courses on the market to date and an author for Cengage Learning PTR with four technical reference books and counting published as well as titles on the market for Alfred and Hal Leonard. In addition to these content-filled endeavors I teach private lessons both in person and online thru Skype and in my TrueFire virtual classroom Guitar Gym. In the not-so-distant past I was an Assistant Professor at Berklee College of Music in Boston and a senior seminar instructor for the National Guitar Workshop Connecticut campus while writing lesson articles and columns for Guitar One, Guitar Player and Just Jazz Guitar magazines as well as other publications. In those years I was beyond lucky enough to work with some of the most important minds in guitar education, and man(!), did I soak it up!
If you're interested in taking a lesson or two or have heard about the elusive 7-Tone program be sure to visit my Private Lessons page and then just drop me a line from my Contact page.

So, how did I get here? Well, here's a little background: From an early age through my Berklee professor years I studied with the best of the best including Frankie Cicala, Vic Juris, Gerry Carboy, David Fiuczynski, Wayne Krantz and Mick Goodrick (check them all out and be prepared to be speechless … I was). At the same time I was an insatiable sponge that was constantly seeking knowledge to soak up. Be it through deep theory books like the Hindemith series, Dave Leibman's A Chromatic Approach To Jazz Harmony and Melody, George Russell's Lydian Chromatic Concept or the insane guitar magazine library I amassed – and eventually started contributing to – I couldn't get enough! By the way, these books, as well as many more recommendations, can be found in my Book Store – just click on the Recommendations link to the left of my book cover thumbnails.
In addition to the private study both with teachers and piles of books I did a ton of listening to everything. You name it, I dug it. From Led Zep to Joe Pass to Peter Gabriel to Eric Dolphy to Rush to Grandmatser Melle Mel to Van Halen to the Screaming Headless Torsos to … well, you get the picture. That said, perhaps the most valuable schooling was becoming (and staying) a working freelance musician. I put a solid ten years in playing in New York City and beyond as a sideman, pit musician, session cat, etc. You can get the full story on my Bio page, but regardless, those years were invaluable. And now, I pass along that knowledge and more to you.
In 1993, I started teaching out of my house while in college. After receiving my Bachelors of Music degree from William Paterson University in 1995, I continued to teach privately, in local music stores and in independently owned instructional facilities throughout the NY/NJ area. As a result of all my student's individuality and their need for the same material to be conveyed in so many different ways, I was able to develop methods to effectively explain just about anything. Through the thousands of hours I've spent teaching privates, group classes, and clinics over the past 20 years, my methods are finely tuned and highly effective. In 2002 I scored a book deal with Alfred publications that resulted in my first book, Jazz Lead Guitar Solos. A few years later while just starting to write my first column in Just Jazz Guitar magazine called Tools of the Trade that very same book made it to the desks of the Guitar One staff. While I was starting to teach week long seminars in various places I scored a spot as a faculty member Berklee's Guitar Sessions in 2003 after subbing for David Fiuczynski during the previous spring semester. From there, as they say, the rest is history…