Private Lessons
Whether it's a private lesson or Online Skype lesson,  my private teaching is based on in-depth study of advanced techniques and concepts. Making sure the student's core knowledge is complete in whatever style they're focusing on is my top priority. I want all of my students to have the "chops" to perform on their instrument while obtaining the theory of what it is they're playing. At the same time, I strive never to let the student lose sight of the end result – the music. I've had great success preparing students for college programs, as well as instructing established musicians to realize new levels in all aspects of their playing. As a teacher, I've formulated concepts and ideas about my own playing that otherwise would never have surfaced. In turn, these ideas are passed on to my students, forming an endless circle of shared knowledge.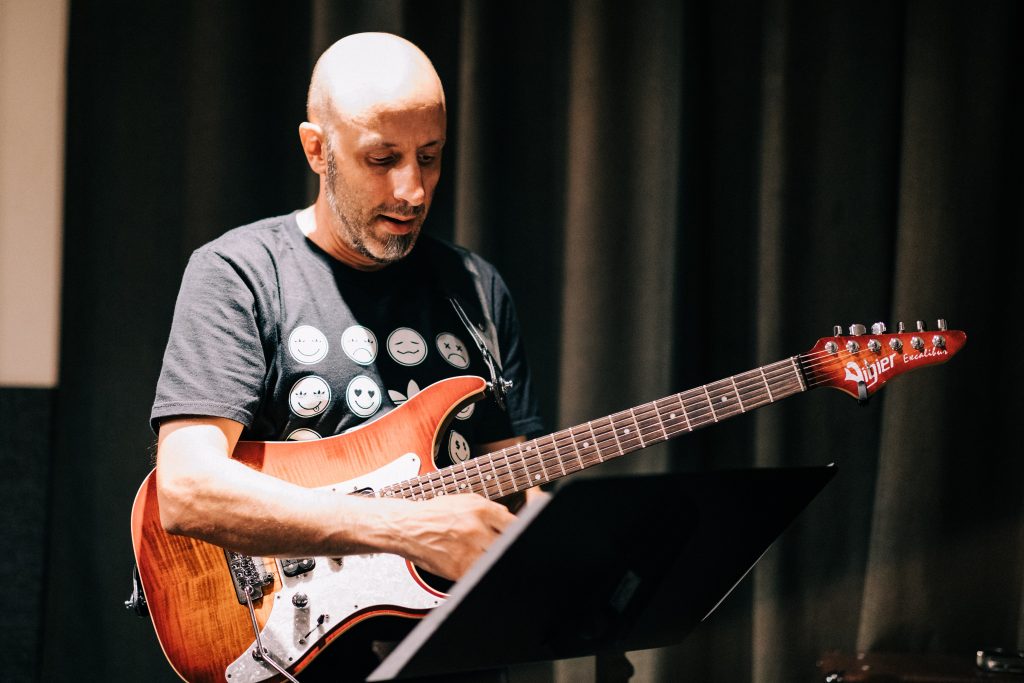 There are several approaches we can take with your guitar studies in both private and Online Skype lesson environments.  The most common method is an open-topic style approach where we co-develop your studies as we progress. Whatever you decide to study,  I will make sure that timing, improvisational skills, technique, theory and neck vision all remain constants. Check out what luthier Kieran Downes of Downes Guitars has to say about studying with me here.
I've explored with students over the years are:
Jazz comping and soloing skills
Jazz chord melody
Modal studies on all levels (see below for more details or go right to my Diatonic 7-Tone page)
Preparation for college-level music program auditions specializing in Berklee College of Music curriculum
Funk comping and soloing skills
Rock/Metal soloing techniques
In-depth interval studies
Multi-part guitar arrangement
Whammy bar techniques
Effects and tone tweaking
Transcribing and engraving
Reading

Looking to dig on a single vision? Dig this, err, these…
Soon after completing Gerald Carboy's 7-Tone Program (part of his all-encompassing approach to teaching called The Method)  in 1993, I began to teach and further develop this game-changing approach into what I call Diatonic 7-Tone. Many have tried, few have completed it. For the truly brave Diatonic 7-tone graduates (AKA 7-Tone Monks), I developed the Melodic Minor 7-Tone as well as the Pentatonic or 5-Tone and Harmonic Minor programs. At the end of the day all are game changers.
Since becoming a TrueFire artist I've had many private and Online Skype students want to expand on my TrueFire interactive courses.
If you're looking to push your playing to the next level and beyond and you're ready to work hard then click here and let's talk.