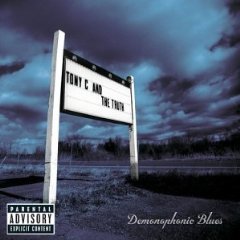 Demonophonic Blues (2004)
Label: Lava/Atlantic
Artist: Tony C. and the Truth
Featuring: Tony Cesternino (Vox/Guitars/Harmonica), Chris Buono (Guitar/Sounds), Kyle Kelso (Guitars/Producer), DJ Prestige (Turntables), John Harvey (Bass), Tobias Ralph (Drums), Sophia Ramos (Backing Vocals)
For more information: http://www.myspace.com/tcatt
*** My work throughout this entire CD was criminally mis-credited as "Additional Guitar Solos". It went way deeper than that. Listen for yourself, you'll know where I am.

Who I Are
Audio clip: Adobe Flash Player (version 9 or above) is required to play this audio clip. Download the latest version here. You also need to have JavaScript enabled in your browser.
Recorded in Tony's living room through a "portable" Pro Tools HD rig on Lava's dime, this was one for the record books in more ways than I can state here. For this track I strapped on Tony's newly acquired original Airline semi-hollow for all the lo-fi cheap-o licks throughout. I ended up wielding Kyle's kick-ass Les Paul through a fire-breathing Marshall half stack for some gutteral riffing as well as the outro solo starting at 3:18. It was loud.

Weight of the World
Audio clip: Adobe Flash Player (version 9 or above) is required to play this audio clip. Download the latest version here. You also need to have JavaScript enabled in your browser.
After the mindless banter at the opening my delay pad signature enters in with a vintage Mu-Tron Bi-Phase properly coloring it (no, that's not a synth pad). At 2:09 I drop a double tracked solo played on someone's sweet Gibson SG. I was going for a Randy Rhoads thing sans cheesy MXR effects. The outro has some sonic trickery over the pads courtesy of Boss delays and my vintage Electro-Harmonix 16 Second Delay.

Gravity
Audio clip: Adobe Flash Player (version 9 or above) is required to play this audio clip. Download the latest version here. You also need to have JavaScript enabled in your browser.
With a slide, my 16 Second Delay, and a host of other goodies I colored this track with the vibe it demanded. Tony's soulful acoustic slide work was outstanding, especially for the eery pitch heard sparingly throughout. Check out Tobias' pocket, too–DAMN.

Fight For Your Right (To Party)
Audio clip: Adobe Flash Player (version 9 or above) is required to play this audio clip. Download the latest version here. You also need to have JavaScript enabled in your browser.
This was the lone one take of the entire project so whatever happened is what it is. It rocked though and it was a freakin' fun. This is my one and only appearance on a CD where I play the token rock guitar solo with a wah pedal. Lord, help me.