Magnets and Wire (2019)
Label: 4d
Artist: Toone Ensemble
Featuring: Ede Wright, Todd Haug, Chris Buono, Killick Hinds, Gabriel Lopez & Steve Sjuggerud (Guitars), Ken Kinter (Bass), Dan Ostrowski (Drums)
For more information: www.ricktoone.com

The Magnets & Wire project is just one of the many adventures I've been on with the one and only Rick Toone. But, man, this one is next level. As per usual Rick eloquently describes the ins and outs on his blog. I took a shot here as well as below. We even made a movie that documents it.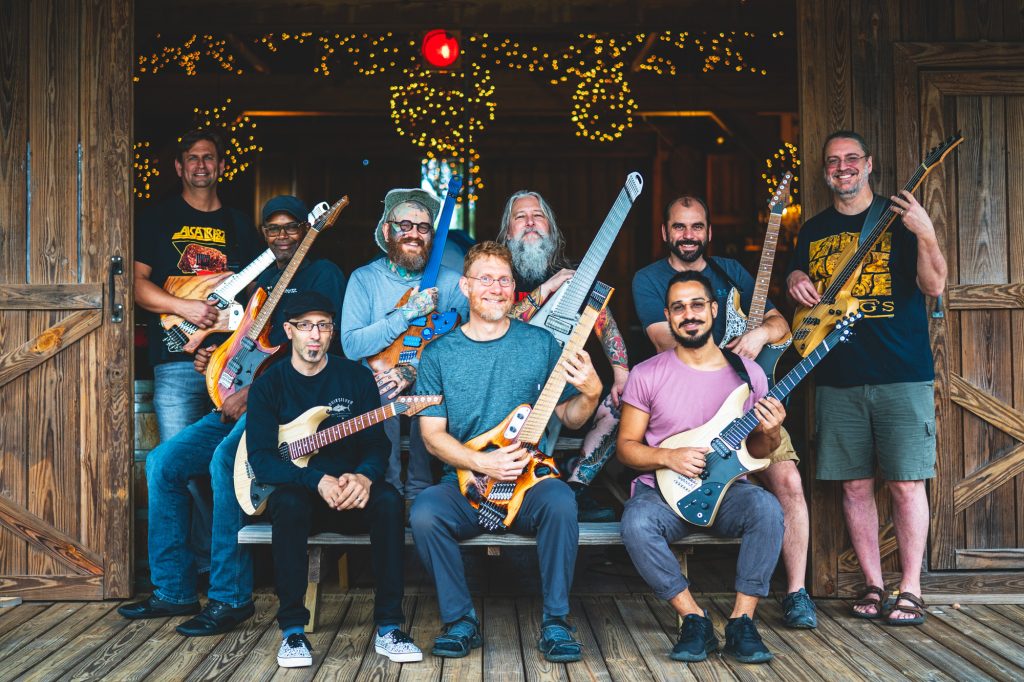 Sometime in mid-November Rick Toone enthusiasts including myself, Ede Wright, Todd Haug, Killick Hinds, Gabe Lopez and the inimitable Steve Sjuggerud made our way to an undisclosed location in Florida, close to the border with Georgia, on a secluded estate. Along with Ken Kinter and Dan Ostrowski as our on-call rhythm section, the purpose was to create a recording project commemorating the great Steve Blucher whom Rick works with on OEM pickups for his builds. As for me, Steve is responsible for my longstanding relationship with DiMarzio. The compositions were created and arranged on site – many freely improvised – and were named after classic Blucher-isms captured in conversations and emails. It was a fantastic few days filled with a lot riffs, laughs and love not to mention incredible guitars and gear brought by all.


This conduction-based piece kicks off the album. With some random conductor cues from Rick (as he held an iPhone) we belted out some noise to create a collective opening piece. It's tough to describe where I am in this one, but suffice to say there are moments where 'you'll know' – ha! For instance, the ring mod chirps and whammy squeals are yours truly. All the while I have my Toone Goshawk seen in the group photo above.

'Cast…' is a collaboration between myself and Ede Wright. This was very fun to say the least as Ede has a deep pocket and can really speak on his Toone Redwood Spearfish. He's also gracefully tolerant of my off-kilter comping antics (bless your heart, Ede).
I put together an impromptu arrangement of themes from Superstition and So What – it's basically the head melody of the former and the changes of the latter for the blowing. I take the first solo with Ede slaying the next one. I played Rick's seminal 7-string called Sketch (he's holding it in the picture above). That enchanted beast is a legendary build for Rick that's been around the block with myself, Harvey Valdes and Tosin Abasi as well as Sjuggs. It was plugged into some fun stuff including a DigiTech Ricochet and my beloved late 90's Z.Vex Fuzz Factory.


Q: What happens when you have an 8-string overlord play on one of your funk tunes?
A: 'Heavy metal mudbomb'
I had the pleasure of getting together with Todd Haug of Powermad on my tune 'Muscle Car' from my TrueFire In the Jam NYC Funk escapade. Armed with an Axe-Fx III rig of doom plus his infamous Toone Ghost, Todd crushed the riffs and blew some fiery licks on two separate tracks that were combined in mixing. It was killin'. As for me, I went with Sketch one more time. I have a fun history with that guitar and I relish any and all times we rock together. Sketch was plugged into a few goodies including an Alexander Syntax Error and a Basic Audio Bye-Bias. It was in an effort to survive in the mix with Ghost.

'Are you weird' is a freely improvised session with a master – Killick Hinds. I needed to come out swinging on this one as Killick has next-next level approaches to sound design and free playing. Hands down – these 15+ minutes made the trip for me and it was aptly named. In regards to the latter, the title was from a question Steve asked me back in 2000 when I cold called him about a repair. The conversation shifted to what I do and somehow I said something that interests him. Steve Blucher was interested in what *I* was doing. My guitar-nerd head was spinning. He simply asked the question to which I answered, "I think so." So, he told me to send him something and if he thought I was indeed weird, I was the next new DiMarzio artist on the roster…
…in 2020 I celebrated my 20th year with DiMarzio 😉

I can't even begin to describe how Killick does what he does with his fretless Rick Toone Walrus. I can tell you there's a laptop in there and a dope-ass Schroeder rig. The latter blew me away, but it's Killick that will leave you slack-jawed ever time.
I tried my best with my Goshawk into a nasty, nasty rig that included a Chase Bliss Audio MOOD & Generation Loss (yes, that pedal), a Hexe reVOLVER DX-L, both aforementioned fuzz pedals, an Empress Echosystem and so much more.
This was sonic bliss. Thank you, Killick.